Donate to Benton Bay Athletics Foundation
Serving Anchorage, Alaska, since 1984 - over 35 years!
The Benton Bay Athletics Lions Club's mission is:
To promote the value and importance of youth sports throughout our community.
To support various athletic activities such as UAA and high school sports.
To support and further the goals of Lionism in general so that our motto "We Serve" is fulfilled.
Click the Donate to support BBALF to support of Anchorage Youth Sports and the Lion's Five Global Causes. You will be taken to PayPal where you can use any major credit card to make the donation.
Interested in joining Lions? Just contact us and we'll provide information on membership.
Donate to Save our Seawolves
The budget for all of University of Alaska Anchorage has taken a huge cut and in order to stay solvent the Board of Regents voted to cut UAA Hockey, Gymnastics and Downhill Skiing after this 2020-2021 season.
However, the Board of Regents gave fans a way out.  If we can raise private funds (cash and pledges) by their February meeting to support the teams for two years, they will reconsider their decision.
You can designate your donation as follows:
SOS (Save Our Seawolves – Save all three sports)
SSH (to save Seawolf Hockey)
SSG (to save Seawolf Gymnastics)
SSS (to save Seawolf Downhill Skiing)
Click the Donate Button to be taken to PayPal where you can selected the sport you wish to support. You can make the donation with any major credit card.
Use the dropdown menu to select either Save all three sports or an individual sport. If you do not make a selection, your donation will be applied to Save all three sports.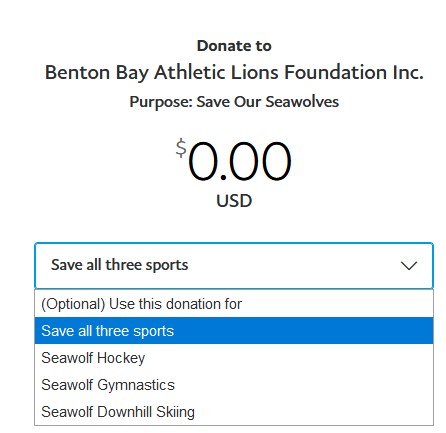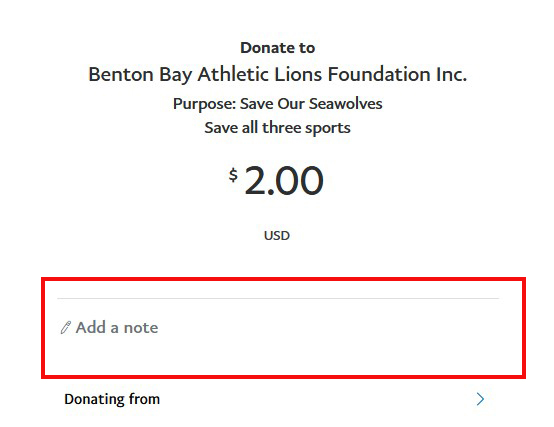 Note: If the specific sport you donated to gets cut, your donation will be used to support that same sport in the Anchorage youth programs.
Additional Information
You can donate by sending a check in an amount of your choosing to Benton Bay Athletic Lions Foundation, PO Box 91395, Anchorage, AK 99509-1395. Please indicate your instructions for use of your donation.
Donations can also be made by credit card online through PayPal using any national credit card. It is not necessary to have or open a PayPal account to pay online. Just click the BBALF button to donate to support Benton Bay Lions or one of the Seawolf buttons to contribute to Save our Seawolves.
Benton Bay Athletic Lions Foundation is a 505(c)(3) organization. Your donation may be tax deductible. Please consult your tax advisor.