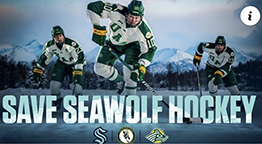 UAA Seawolves Golf Tournament
4-Person Scramble at
Anchorage Golf Course
July 1, 2021
6am Registration, 7am Shotgun Start
Lunch Following

Join us for a Day of Golfing
Support UAA Seawolves Hockey
Sponsored by Benton Bay Athletic Lions Foundation, Inc.
Join friends and hockey players at the course for a day of fun in support of UAA Hockey. Lunch will be provided as well as goodie bags with tee shirt, golf balls and tees.
Consider Donation
Can't make the Golf Tournament? Please consider a donation to support Seawolves Hockey.
Learn more at www.SaveSeawolfHockey.com
Why is there a golf tournament for Seawolves sports?
Last fall the University of Alaska Anchorage cut the hockey, alpine skiing, and gymnastics programs from its budget, beginning next season. The University Board or Regents committed to revisiting this decision if the community could raise enough funds to cover two years of operations. Alpine Skiing was reinstated after they raised the necessary funds. Hockey and Gymnastics got an extension to the deadline to raise their funds. This golf tournament is a critical fundraiser to help Save Seawolves Hockey reach their required $3 million. Benton Bay Athletics Lions Foundation, Inc., a 501c3 non-profit organization, is sponsoring this event. The proceeds, after direct expenses, are dedicated to support the UAA Seawolves Hockey Program.*
Benton Bay Athletic Lions and other Anchorage community members are dedicated to saving these Seawolf sports from elimination. Our Seawolves are an important part of our community: giving hundreds of hours of community service, helping elevate the game, and serving as mentors and local heroes to the younger sports community.
*If fundraising goals aren't met and the hockey program is eliminated, the proceeds will go to support youth hockey programs in Alaska.
UAA Hockey Team
Questions? Please Contact Us.