Lions serving Anchorage
Benton Bay Lions is one of many Lions Clubs in Anchorage. Our mission is Alaska youth sports.
Where there's a need, there's a Lion. Lions Clubs International is the largest service club organization in the world. Our 1.4 million members perform valuable service in 210 countries and geographic areas around the globe.
Lions are friends, family and neighbors who share a core belief: community is what we make it.
Meetings and Activities
Club Meetings
Tuesday weekly meetings are held twice a month on the 1st and 3rd Tuesdays at TGI Fridays, 190 W Tudor Rd Anchorage. Tuesday lunch meetings seating starts at 12 noon and meetings are called to order at 12:15pm. Meetings include guest speakers and updates on Club activities. The cost is $20. Questions, just contact us.
Benton Bay Projects
Annual Athletic Scholarship
The Annual Scholarship is open to all Alaska high school senior athletes. The scholarship is awarded to one athlete and pays $500 annually to the institution on student's behalf for a maximum of 4 years. Download the application here. Questions?
Vision Screening
Lions Clubs play an important part in eye health promotion in their communities. Benton Bay Lions take a lead role in coordinating the vision screening program in the Anchorage area. Volunteers needed.
Diabetes Screening
Benton Bay Lions Club is partnering with UAA/Idaho State University School of Pharmacy to provide free blood sugar checks, Hemoglobin A1c checks and cholesterol levels as well and diabetes information and recommendations. Learn more about Diabetes Screening.
Benton Bay Athletic Supporters
Benton Bay Lions Club sponsored the Benton Bay Athletic Supporters in 2017. The Athletic Supporters are a team of with the Anchorage Sports Association Fallball league. Check out some photos of team play.
Benton Bay Activities
Split the Pot
Our main fund raising activity is selling split-the-pot tickets during UAA, AASA, and other miscellaneous athletic events. We work well over 100 events during the year raising money to support amateur athletics in Anchorage and many other community support projects. Most other projects are in support of blindness prevention or those who are blind or visually impaired.
Spring Bowling Party
Check out the images from the Bowling Party held on May 4, 2019. Sponsored by Benton Bay Lions and Anchorage Lions Club.
Golf Outing
The Benton Bay Golf Outing proceeds support our youth scholarship program. It's a great opportunity to golf with friends while supporting Alaska youth. Plan ahead to join us again on July 13, 2019. Find Registration and Payment Links Here.
Pitch Hit & Run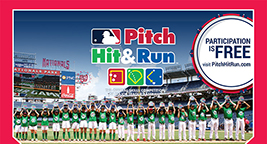 Your chance to compete at a Major League Ballpark! Open to Boys and Girls ages 7-14. The Official Skills Competition of Major League Baseball. Participation is Free. April 14, 1:30-4:30pm at Fox Hollow Sports Dome. Sponsored by Benton Bay Lions. Contact us for more information. See the poster.
Benton Bay Athletic Lions Club Mission
The Anchorage Benton Bay Athletic Lions Club was formed with specific goals in mind and the membership was developed to meet those goals, which were and are:
To promote the value and importance of youth sports throughout our community.
To support various athletic activities such as UAA and high school sports.
To support and further the goals of Lionism in general so that our motto "We Serve" is fulfilled.
Join our Lions Club
If you are looking for good fellowship and an organization that strives to make a positive impact on our community and beyond, the Lions organization is for you.
Our club is always looking for new members. Join us for lunch or dinner meetings. We look forward to meeting you.