Anchorage Area Youth can Compete in Major League Baseball
at the Pitch Hit & Run™ Competition
Benton Bay Athletic Lions hosts free Major League Baseball®
Pitch Hit & Run™ for Anchorage area youth on May 22, 2022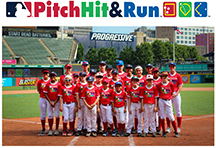 Pitch Hit & Run™ is the official skills competition of Major League Baseball.® This grassroots program is designed to provide youngsters with an opportunity to compete, free of charge, in a competition that recognizes individual excellence in core baseball/softball skills.
Boys and girls are divided into four age divisions: 7/8, 9/10, 11/12, 13/14, and have the chance to advance through three levels of competition, including Team Championships and the Finals during the World Series™.
All participants should register online at PitchHitRun.com and plan to bring age verification (copy/picture of birth certificate or similar) to the competition.
For questions concerning the competition, please contact Benton Bay Athletic Lions Club.
Plan to watch the fun at Albrech Fields - 4781 Elmore Rd, Anchorage, Alaska.
You can register here. You can download the flyer with details here.


Contact Benton Bay Athletic Lions